Comfrey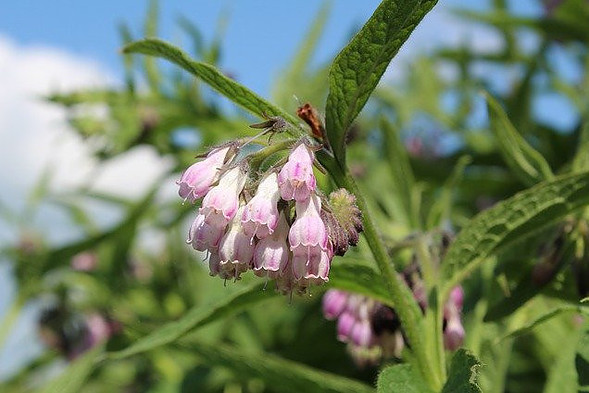 link to Comfrey
*We may earn a commission for purchases made using our links. Please see our disclosure to learn more.


Common Name: Comfrey or Knitbone
Latin Name: Symphytum officinalis
Annual/Perennial: Perennial
Sun/Shade: Full Sun
Height/Width: 2-3 feet tall
Bloom Time: Summer and Fall
Zone: 4-8
Parts of Plant Used: Root and Leaves
Medicinal Benefits: healing herb, tonic, astringent, expectorant, coughs, anti-inflamatory, antibacterial, immune system, bones, joints and muscles, dieuretic, nervine, respiratory system, bronchitis, asthma, TB, pleurisy, pneumonia, bowels, kidneys, diarrhea, bruises, sprains, swellings, fractures, cancer, torn ligaments, heart problems, wounds, boils, sinusitis, burns, insect bites, poultice (use root and young leaves), Note: If the liver is congested or weak it is best to use only the mature leaves; avoid the young leaves and roots.
Ways to Use: tea, decoction, infusion, tincture, powdered root, fomentation, poultice, ointment.
Recipes ( Taken from School of Natural Healing ): Decoction – Place 1/2 -1 ounce of the root in 1 quart of purified water. The mucilage of Comfrey root is best extracted with water. Use milk if you are using for bowel problems. This helps the mucilage attach to the inflamed membranes of the bowel. Take 2 fluid ounces 3x a day.
Diarrhea and cough – Give the mucilage sweetened with honey in teaspoonful does every half hour. Comfrey strengthens, nourishes, soothes and heals.

Tuberculosis – Combine Comfrey with garlic, 1 tablespoon of fresh garlic juice to every pint of mucilage of Comfrey. Stir well. Give 1 mouthful at a time every hour. 2-6 fluid ounces every four hours.

Skin Inflamation, Bruises, Sprains, Swelling – Apply a fomentation made from the comfrey root or leaves. (Fomentation – 4 ounces powdered root in 2 quarts distilled water. Boil the powdered root slowly for 15 minutes in the water and strain. Soak a natural fiber cloth like cotton or flannel in the mixture. Wring out the excess to keep it from dripping and apply as warm as possible to the area.)

Wounds, Bruises, Burns, Varicose Veins, Ulcers, Boils – Cover the area with organic extra virgin olive oil. Saturate a thick layer of cotton cloth with comfrey mucilage and apply to the affected area. Cover with plasic wrap or waxed paper, bandage and leave on until nearly dry. Make a fresh application by following the same procedure. If pus is present, cover the affected area with oil of garlic instead of olive oil and take 1 teaspoon of the oil internally. This will prevent or stop pus formation. Use fomentation wrung out of a strong decoction.

Poultice – Make a comfrey poultice from bruising the fresh leaves and applying over the affected area. It will relieve pain in an hour. You can add wintergreen, lavender and olive oil to the poultice for more pain relief.

Skin Lotion – Juice or decoction mixed in equal parts with glycerine is an exellent skin lotion and beauty lotion to tone, soften and rejuvenate the skin.

Mucilage of Comfrey Root – 2 ounces of Comfrey Root, 1 quart of distilled water, 6 ounces of Honey (Meluca), 2 ounces glycerine. Soak the root in water for 12 hours. Bring to a boil, cover and simmer for 30 minutes. Strain, then filter and squeeze through muslin or linen cloth. Return liquid to the clean pot, add the honey and glycerin. Simmer for 5 minutes and set aside to cool. Place in a wide mouthed bottle and keep in a cool place. Dosage: Coughs, raw or sore throat, slight hemorrhage: 2 fluid ounces every hour until tissues are healed and coughing stops. Do not eat or drink for 12 hours during the treatment.